Annual performance accreditation and new year gala
---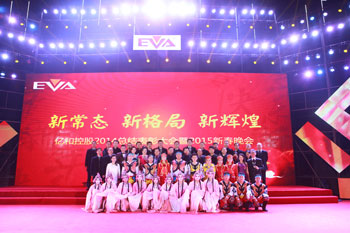 Since 2004, we have been organising the annual performance accreditations and new year galas at around Chinese New Year every year. During the event, we draw a conclusion about our performance in the preceding year, and give compliments to praiseworthy people and deeds. We hope that these praiseworthy people can become our role models and create a value for excellence among the people of EVA, thereby injecting new energy for our developments in the coming year.
During the event, not only our senior management members are on the stage, but other colleagues from different levels will also share their happiness and achievements. It is because all of them are the cornerstones of EVA.
Apart from performance accreditation, a variety of entertainment shows are also arranged to bring a wonderful cultural feast for the people of EVA. The lucky draw is full of excitement, symbolising good luck and prosperity for the coming year. The cheers and laughter during the event are a true reflection of the high morale of the people of EVA.
---
Business target and strategy announcement conference
---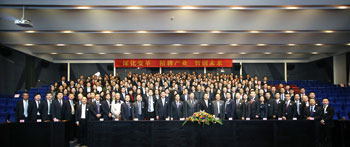 Since 2006, we have been convening the annual business and strategy announcement conferences at the beginning of every year. During the conference, we discuss about our business directions and targets, and determine our business strategic plans. One of the purposes of this conference is to unify the thinking of our management members so that we can work smoothly together to achieve our business objectives in the coming year.
---
Shenzhen International Machinery Manufacturing Industry Exhibition
---
Since 2005, EVA has been participating in Shenzhen International Machinery Manufacturing Industry Exhibition, initially in the capacity of the Vice Chairman Enterprise of Shenzhen Machinery Association. In December 2009, EVA became the Chairman Enterprise of Shenzhen Machinery Association, and thereafter we participated in the exhibition in the capacity of the Chairman Enterprise.
From 2005 to 2013, EVA had been showcasing its cutting-edge technologies and innovations to fellow exhibitors and visitors. Starting from 2014, we have also included our unique corporate culture as one of the highlights of our exhibition booth. We hope to use our unique culture to attract visitors, and showcase the high morale of the people of EVA and our corporate growth.
The Shenzhen International Machinery Manufacturing Industry Exhibition (SIMM) was first held in 2000. Up to 2015, it has been held for 15 consecutive years. It was the first exhibitor in Southern China to join The Global Association of the Exhibition Industry (UFI) and one of the first batch of exhibitors certified by BPA Worldwide. The exhibition has become a high end international platform for procurement, exchanges and exhibitions for China's manufacturing industry. It is divided into different exhibition zones covering metal cutting equipment, metal forming equipment, smart integrated systems, robotic systems, moulds, components, tools and accessories, software products and 3D printing technologies.
Every March, industrial elites from China and the rest of the world gather in Shenzhen. Most of them are senior management members from industrial associations, sizable enterprises, governments and other sectors of the industry. Using the exhibition as a platform, they elevate their corporate images, widen their horizons, and seek opportunities for business co-operations and developments.
---
511 IPO anniversary of EVA
---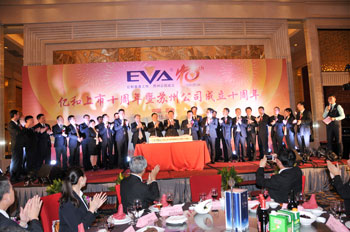 EVA was established in 1993, and was listed on the Main Board of The Stock Exchange of Hong Kong Limited on 11 May 2005. Thereafter, 11 May has become a very important date for us. Every May, we organise fabulous events to celebrate our IPO anniversary. We also take this opportunity to thank for the support and trust of our customers, business partners, investors, governments, industrial organisations and our colleagues.
This celebration has now become one of the key cultural events of EVA. Every year, we invite a lot of friends to share our happiness. We organise a variety of activities and entertainment shows during the event to convey the gratitude of the people of EVA towards our friends.
---
Talent competition
---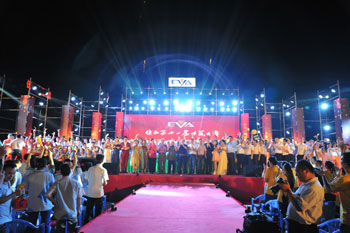 We use artistic performances to convey happiness, and use our happiness to demonstrate harmony. In our annual talent competitions, the people of EVA showcase their artistic talents. We also demonstrate our friendship and the joyful side of our lives.
EVA organised its first talent competition in 2004, and it has now become a signature activity for the people of EVA. For more than 10 years, we have discovered and nurtured hundreds of artistic talents in EVA. The annual talent competition also serves as a platform for the people of EVA to demonstrate and elevate themselves.
---